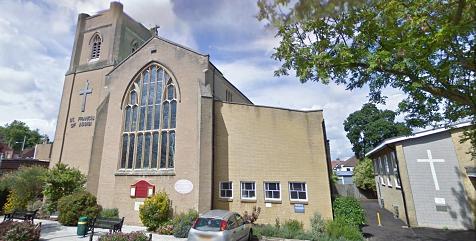 Welcome to the website of
St Francis of Assisi, West Wickham
St Francis of Assisi, Ravenswood Avenue, West Wickham, BR4 0PW.
St Francis is situated just off the High Street in West Wickham (opposite Sainsbury's car park!) Our church worship is in the Central Anglican Tradition.
We are a community of faith in touch with the wider community
We form the other half of a United Benefice with St Mary's, West Wickham and our congregations work closely together. You can find out more about St Mary's using this link to their website. For the latest edition of our magazine click here. We also have our own Facebook page which you can view here Please 'like' our page! Click here to make a one-off donation to St Franci
On Sunday 30th January we will celebrate Candlemas (The Presentation of Christ in the Temple). Services in church will be 8am Holy Communion at St Mary's, and 10.45am Holy Communion at St Francis'. The 9.15am service from St Mary's will be live streamed on our YouTube channel.
Click here for the Communion Order of Service.
For the latest Messy Church activity sheet for January click here
For our latest pew sheets click here. For the latest news of special services and events in the Benefice click here
To keep everyone safe we would be very grateful if those attending these services or events take a 'Lateral Flow Test' before arriving to check for a negative result. Please note that face masks are now mandatory inside our church buildings.
For details about donation points for Bromley Foodbank click here.
For help with mental health, domestic abuse and bereavement issues click here
We hope you enjoy finding out more about us from this website and we look forward to welcoming you to one of our services or activities.
The Revd Hazel O'Sullivan
Vicar